What happens while we wait
plus lots of pitch opps, grants, and more
Hiya Writer Friends,
Welcome to One More Question, a newsletter for nonfiction writers who want to keep writing, even when it's really hard. This is a place where we can all be a little bit obsessed with the work and the words and the stories that are such a big part of who we are. It's a space for writing woes and writing wins and working towards more of the latter.
New here? Let's make it official! Drop your email below to join the One More Question club:
Here's what you'll find in this issue:
Some thoughts on waiting and writing

Meet a new Friend Who Writes

My favorite distractions of the week

Opportunities and editors who want your pitches
---
What Happens While We Wait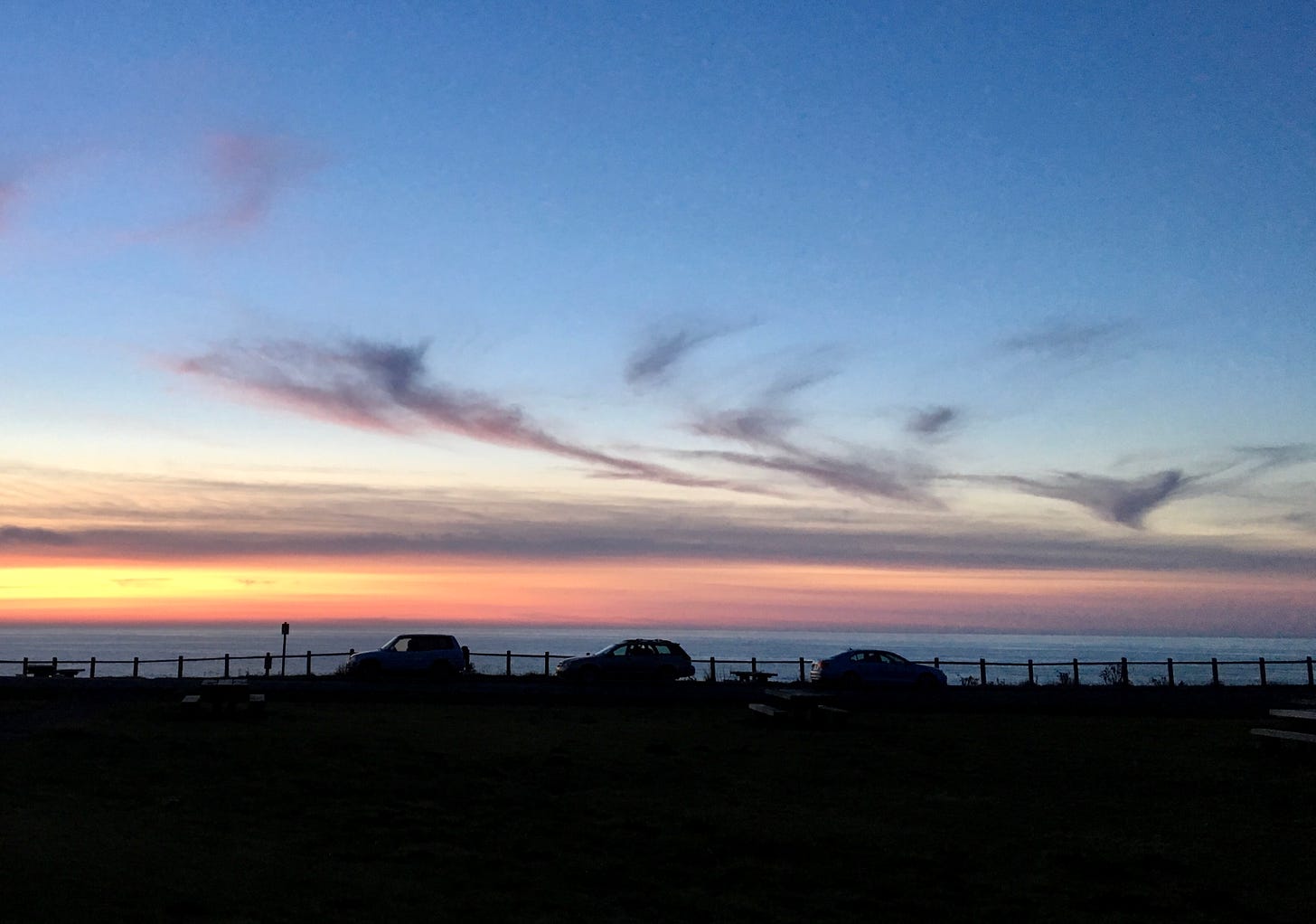 Last night the clouds gathered in puffy rows and blushed with the peach light of sun that seemed too bright for the hour. It's staying light past dinner now, which means summer is coming. But it's still raining most days in Portland, Oregon, where a long wet season dances with the idea of summer for weeks. Warmth drops in and then runs away, and the rain comes back with its dark puddles and piles of wet flower petals that fall from the trees.
Puffy clouds in the evening are a sure sign that a stunning sunset is on its way. But last night I didn't care enough to stand at the window and wait for the dramatic transition of soft peach to blood orange. I pulled down the shades and cracked open a beer.
I get really tired of rain this time of year. I get tired of waiting for warmth, tired of waiting for the mud to harden so I can bring my dog to the park without sinking into wet, sloppy earth. This year, that's compounded by the waiting for the world to return to some version of normal where we can hug our friends and go places.
Lucky for us (I guess), writers are used to waiting. It doesn't mean we're good at it. But it means we get a lot of practice in trying to be patient.
We wait for editors to respond to our pitches. We wait for people to pay us, and when they don't, we wait for them to respond to our emails in which we politely inquire about said late payment. We wait for inspiration. We wait for success and failure and some sign that what we're doing means something to someone out there in the sea of content that swallows up the hard work we toss into the waves. We stand at the edge of the ocean, with the tide teasing our toes, and we wait and we wait and we wait.
The waiting can be rough. But I'm trying to remind myself that a lot can happen while we're waiting.
You've probably heard that last week was not a good week for media. A bunch of publications including Vice, GQ, Bustle, and Quartz laid off hundreds of writers. Buzzfeed furloughed 68 employees. The Economist's 1843 Magazine will no longer exist in print. It was a really sad week for our industry.
If you are someone who lost a job recently: I am so, so sorry.
But I'll be honest. My first thought was: Oh no. All of these staff writers just became freelance writers and there are now EVEN MORE of us emailing editors and even less money to go around, and I am never going to hear back from an editor ever again.
And the waiting continues…
Perhaps that's why I couldn't be bothered to wait for the sunset last night. I'm tired. I'm frustrated. I think we all are.
But of course, my shades are cheap and the sunset didn't care if I watched. It seeped right through and the light of my room was tinted with tangerine.
A lot of good stuff is still seeping through while we wait.
I spoke to a friend this week who is finally writing the book. We've talked about this book a million times while she worked on other projects and traveled and did other things. She was laid off recently. Now, she's writing the book.
(We don't all have to be that productive when shit hits the fan. But it's so inspiring when someone is!)
Another friend is seeing one side of her creative business go dry while a formerly quiet portal is suddenly filled with new opportunities and a steady stream of income. She started working on a new online course for creatives. (I'll tell you more about that, soon.)
And while I've sent approximately 9,543 pitches in the past two months, and it sometimes feels as though 90% of my time is spent refreshing my inbox, hoping for a response on one of those, I've actually accomplished a lot in the meantime. I've written a bunch of these newsletters. I've journaled a lot, and I've started a few things that could be fully formed essays someday. I did hear back on a handful of those pitches and they turned into some published pieces I'm really proud of. I found two steady clients that I really love writing for. That ain't bad, really.
I bet you've been doing more than you realize, too. Look back at your to-do lists. Look at all that you've crossed off! Sure, some things haven't gotten done. But I bet a lot has that you're not giving yourself credit for.
I bet you've written something lately—probably way more than you think. It's hard to have perspective on all you've done when you've been looking at the same screen, in the same room, day after day. It's hard to see the ocean of work when you're staring at the water at your feet.
Almost everything about trying to be a professional writer is getting harder right now. But it was already hard, and now we're seeing the cracks in the foundation that was never going to support us forever. Creativity and new ideas are going to fill those cracks. Things are happening.
For instance, did you know there's a new literary magazine entirely devoted to Taco Bell? (We're going to hear from the editor in an upcoming Q&A.)
Did you know there are new grants and emergency funds for writers popping up? (More on that below.)
And there's support. The writing community is suddenly tighter than ever. So many successful writers and editors are offering whatever they can to those who lost their jobs. They're sharing advice and contacts. They're asking for more pitches.
Have you seen this new database of successful pitches? You can read ones that landed people bylines in CNN, Eater, The New York Times, and more.
There could be resentment towards one another as budgets for our industry shrink and we all anxiously wait on what's next. But that's not what I'm seeing. Instead I'm seeing progress in new forms and an inspiring commitment to keep writing, no matter what.
Yes, everything feels harder. But we're still creating. We wouldn't have anything to wait on if we weren't.
So my message for you today is this: Toss your words into the sea and then go play in the waves while you wait on whatever you're hoping will come. And I know that sounds like something that would be painted on some useless piece of decoration in the clearance aisle at Home Goods—but desperate times sometimes call for cliches. And I miss the ocean.
A lot can happen while you're waiting. So much is happening. Keep writing. Keep playing in the waves. Keep meeting me here to talk about it. And reach out if you need anything.
We got this.
Meet a New Friend Who Writes
Have you emailed your new Friend Who Writes, yet?
I'm going to keep the introductions rolling with Friends Who Write, so if you'd like to meet another writer, respond to this email and let me know. And if you have no idea what I'm talking about, I've been connecting writers via email to share a letter about what this time has been like. You can read more about it here.
My Favorite Distractions of the Week
"I encourage writers to find "the white-hot center of their Taco Bell pain." Writers are a magical type of human who intuitively understand exactly whatever the fuck that means. But we also like poop jokes. Sometimes, that's simply what the pain is, and that's the whole story. It's shit. And you know, and I know." How I Hustled Hundreds of Dollars of Free Tacos for the Literary World (LitHub)

The latest episode from the Freelancing for Journalists podcast is all about where to find freelance work, and they offer some really helpful pitch tips, too.
Opportunities and Editors Who Want Your Pitches
(Several of these tweets are from this thread so keep an eye here for more.)
---
That's it for now, friends! I'll be back in your inbox on Friday with a Q&A. And just a reminder: One More Question will be moving to a paid model starting in June. There will still be a limited number of free issues, but it will be $5 a month for all of the good stuff. See you soon!